Embarking on the search for the perfect gown? The process can seem a bit daunting for the uninitiated.
Read on for 3 essential tips and what to look out for in your gown hunt, and learn how to get the best out of your fitting sessions!
HOW TO KICKSTART
YOUR GOWN HUNT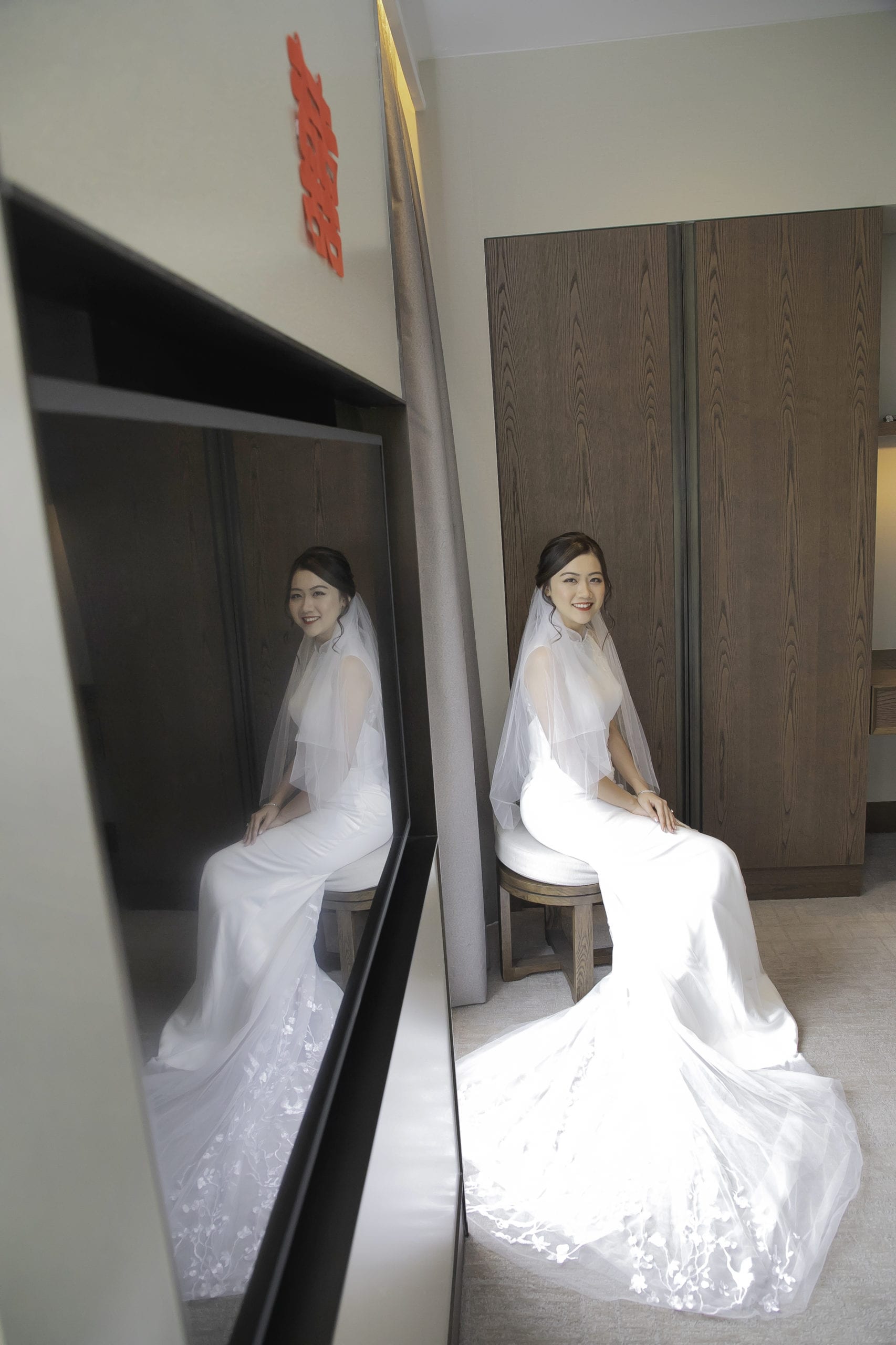 HOW TO KICKSTART YOUR GOWN HUNT
Hands up if this sounds familiar to you! 80% of our appointments start out this way, but unsurprisingly, more than half of our brides end up liking something vastly different from their mood board. There's absolutely nothing wrong in pinning the pictures that appeal to you – it's a great source of inspiration, and quite honestly, the fun part of gown shopping (who doesn't love scrolling through pretty outfits).
It is human nature to love pretty pictures – but, just bear in mind that pictures can sometimes be deceiving. Unfortunately, most of us mere mortals have vastly different body proportions compared to the lanky, 1.8m tall models we see online. The point is, you really have to try it on to know if it works. Having worked with hundreds of brides over the years, if I were to give one, and only one, piece of advice, it would be to keep an open mind when it comes to gown trying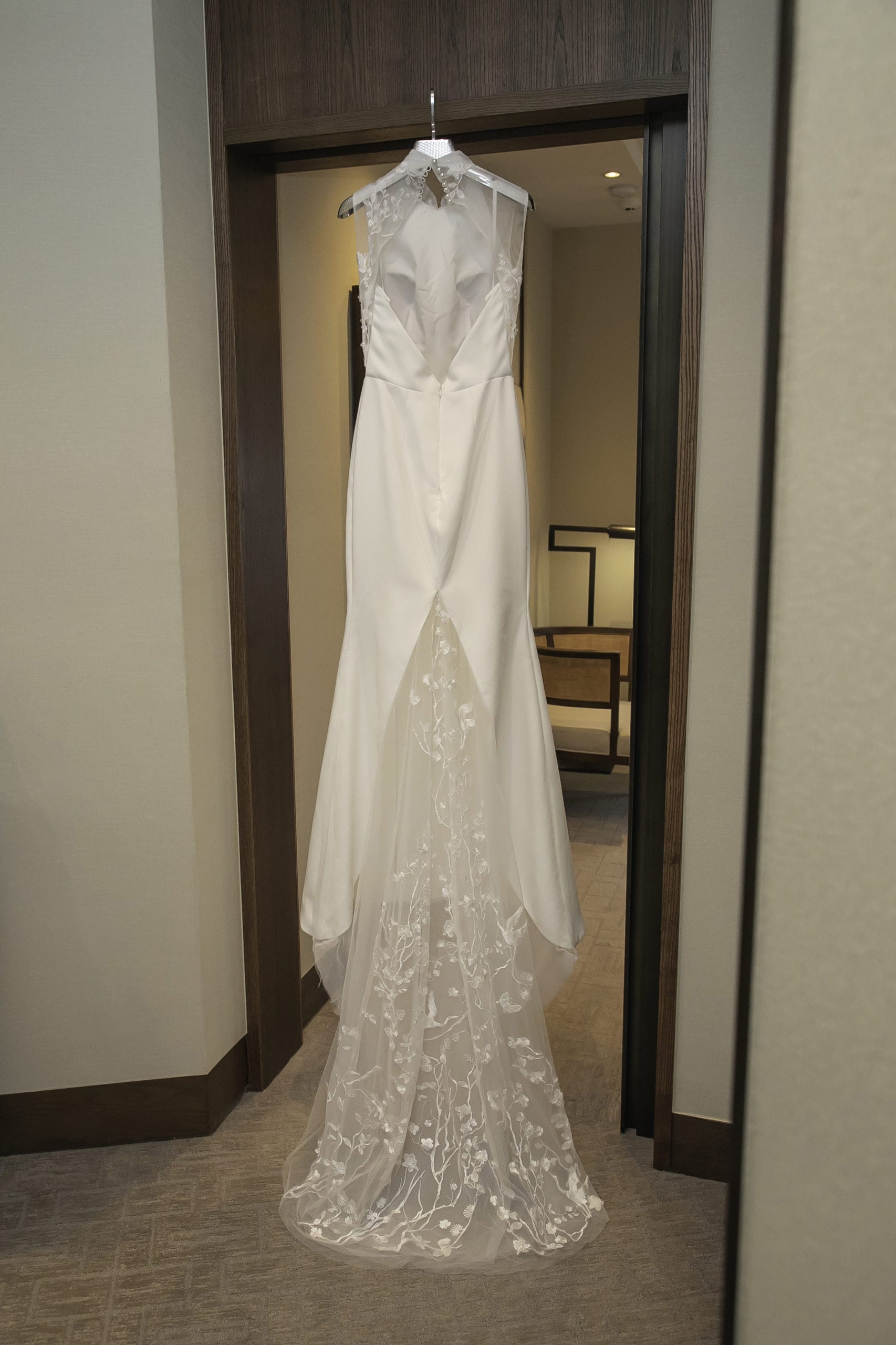 Now, part two is more intuitive – finding a match between you and the personality of the gown. I've met many brides who, despite the fact that they look gorgeous in a tight mermaid cut, choose a simple small A line dress that doesn't do complete justice to their figure. Why?
"It just doesn't feel very ME – I feel more comfortable in looser fit where I can chill and be more at ease" – This is where it gets complicated, and it takes much more than technical skills to be a good bridal stylist.
You need to be able to suss out (in a short span of an hour and a half) what your bride is like and what styles would fit her personality – the trick is whether we can hit jackpot by fulfilling both the 'physical compatibility' and the personality bit.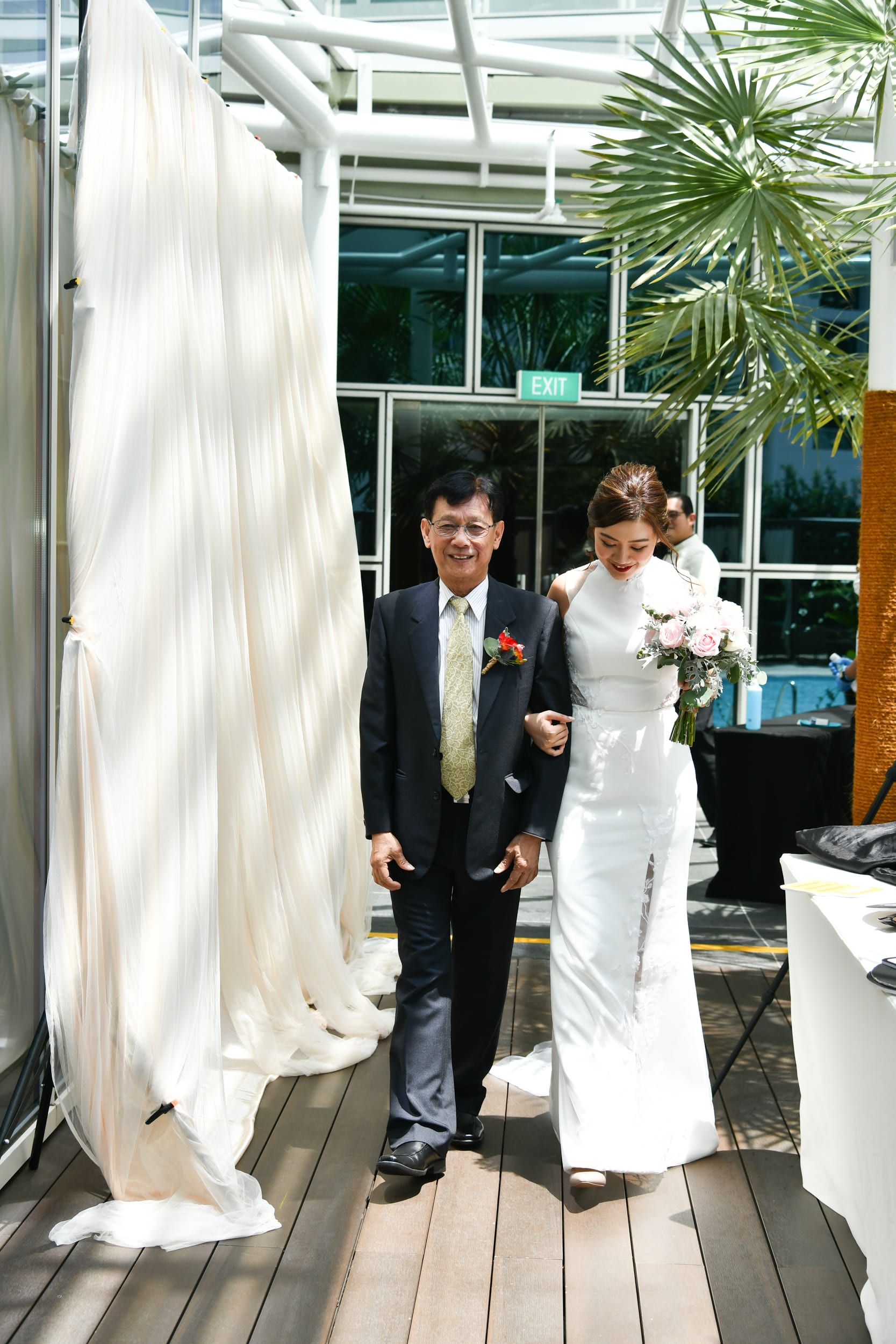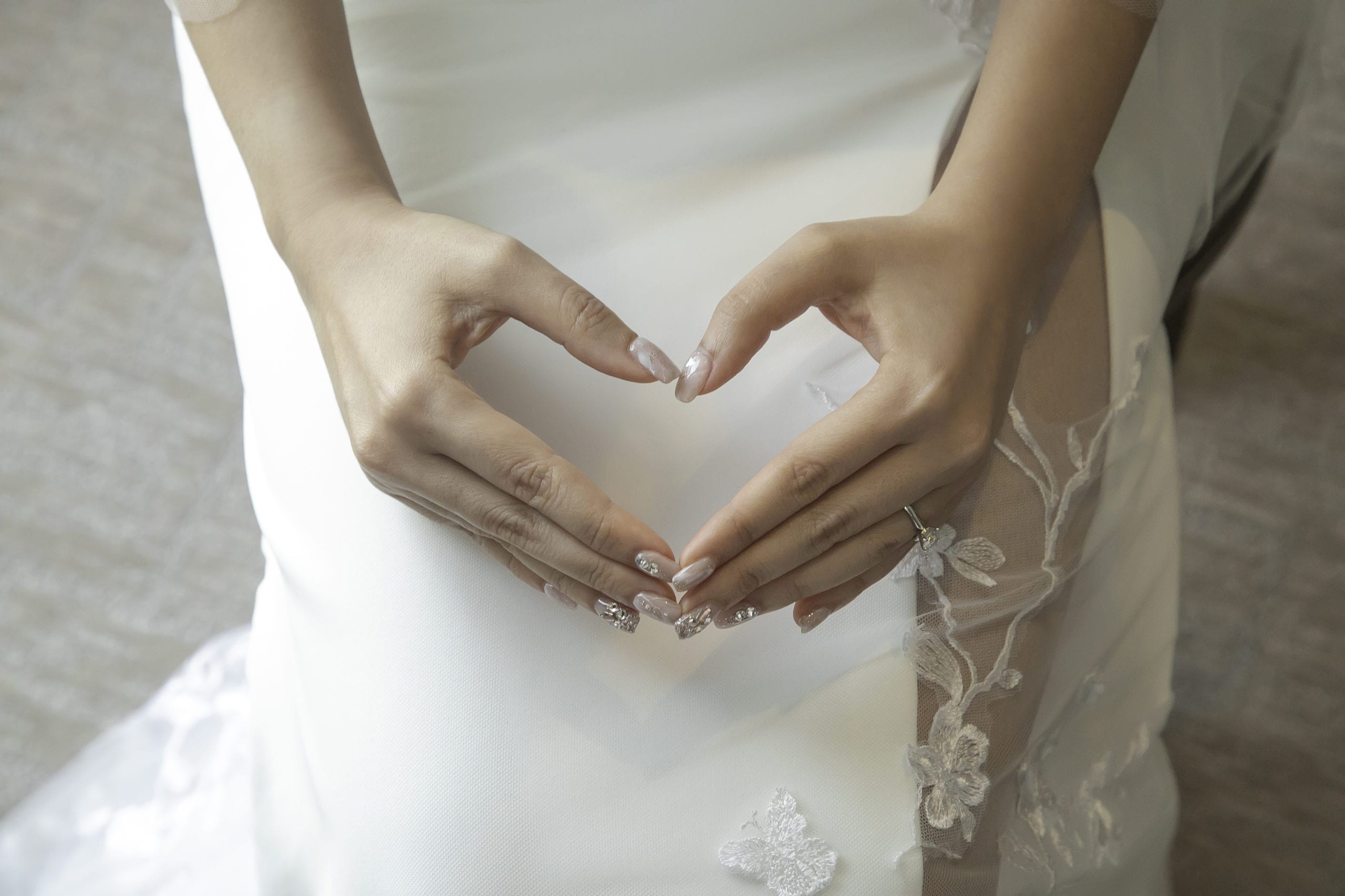 I once designed a white cheongsam wedding gown (yes in full white, instead of the usual colourful cheongsam-style pieces). I wanted to try something new, to combine a modern design with side cut-outs, but with a more oriental vibe with the mandarin collar, pearl buttons and almost Japanese-like lace embroidery with tiny floral blossoms, butterflies, and cranes with their wings stretched out in mid-flight.
It was my personal favourite in the whole collection, but after I completed the design, it was left untouched for quite a few months – it was difficult. Most brides who want a cheongsam would look for something coloured as a change of outfit, and most brides who are looking for their main white wedding gown wouldn't look for something so oriental. My gown was stuck in limbo. It made my question myself, until one day, I met a bride who despite not wanting a fitted cut, gave it a go, and it was love at first sight, both for the bride, and for me. I felt like my gown had found its owner, and vice versa.
This experience taught me that, every gown has its own personality, and our job is really to help match our brides to the right outfit, so that they walk down the aisle in something that they feel 100% for.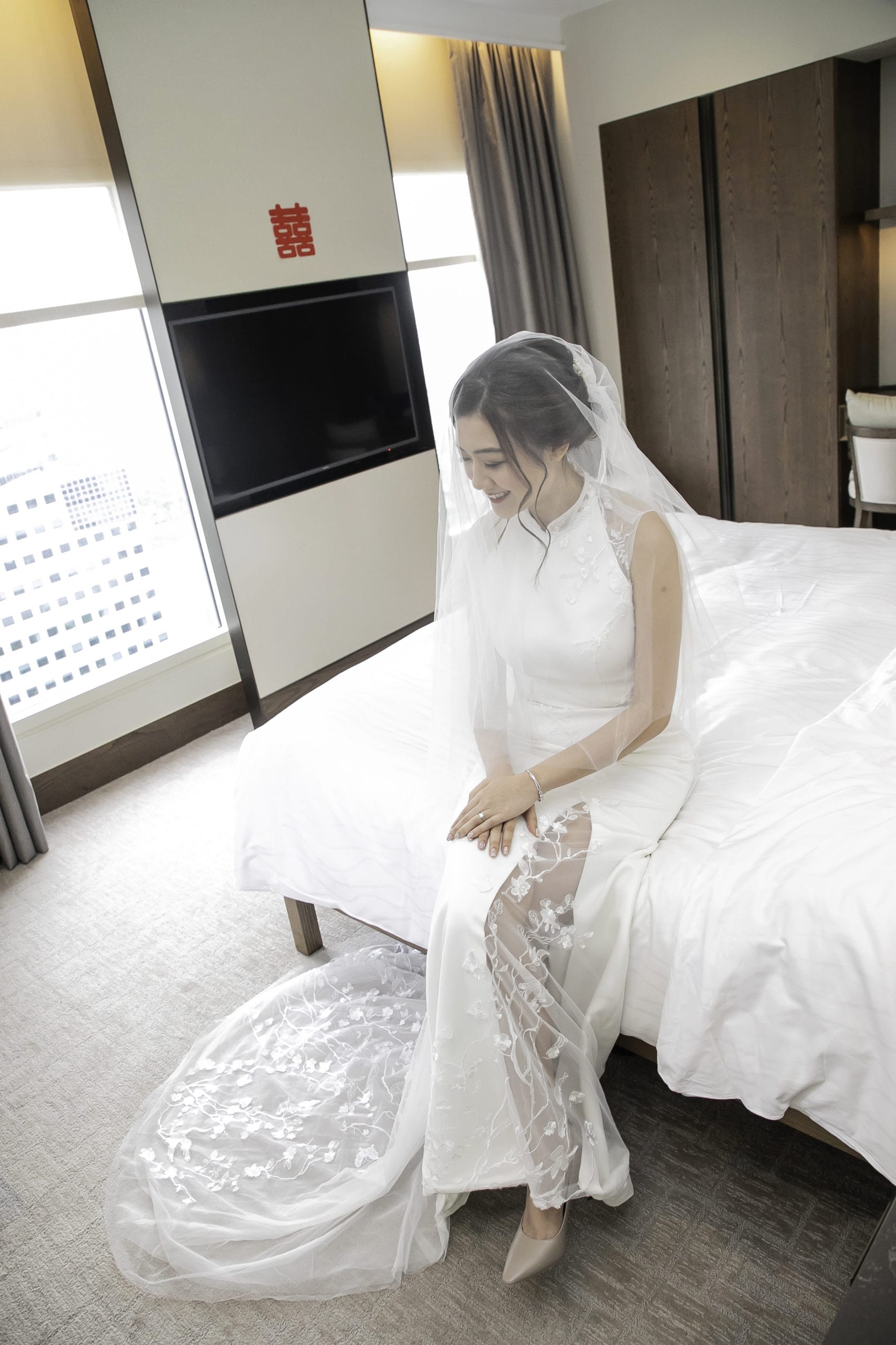 If you are trying gowns for the first time, at any studio:
- Go ahead to pin those pictures you like, it would be helpful as a starting point for your stylist.
- Sort your pins/pictures into categories - this will help your stylist to have a clearer idea of what element you liked in the pictures you saved, instead of looking at a whole mish mash of photos.
- Shape
- Fabric
- Neckline
- Train length
- Let your stylist put you in all of the possible cuts to check on what you like, and she can also offer her professional opinion on which cuts flatter you most.
- Once you narrow down the silhouette you prefer, you can start to look at the necklines you like, and move on to other details like fabric/lace styles etc.
- Take lots of pictures so that you can also review them afterwards, otherwise you will likely forget what that first gown looked like when you reach the end of the session.
- Provide feedback to your stylist on the elements you like/dislike so she can take notes
- Be open to trying